Posts for tag: root canal treatment
By Warren General Dentistry
January 31, 2018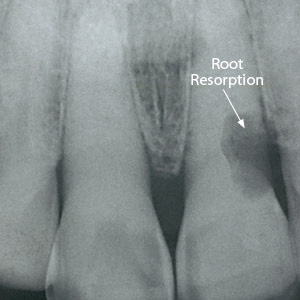 Along with the gums, your teeth's roots help stabilize them. Without them your teeth couldn't handle the normal biting forces you encounter every day. That's why a rare condition called root resorption must be treated promptly: this gradual breakdown and dissolving of root structure could eventually cause you to lose your tooth.
Resorption is normal in primary ("baby") teeth giving way for permanent teeth or sometimes during orthodontic treatment. But the form of resorption we're referring to in permanent teeth isn't normal, and is highly destructive.
The condition begins in most cases outside the tooth and works its way in, usually at the gum line around the cervical or "neck-like" region of the tooth (hence the term external cervical resorption or ECR). ECR produces pink spots on the teeth in its early stages: these are spots of weakened enamel filled with pink-colored cells that cause the actual damage. The cells create cavity-like areas that can continue to enlarge.
We don't fully understand what causes ECR, but there seems to be links with excessive force during orthodontics, tooth trauma (especially to the gum ligaments), tooth grinding habits or internal bleaching procedures. However, most people with these problems don't develop ECR, so the exact mechanism remains a bit of a mystery.
The good news, though, is that we can treat ECR effectively, provided we discover it before it inflicts too much damage. That's why regular dental visits are important, coupled with your own observation of anything out of the ordinary and immediate dental follow-up.
If the affected area is relatively small, we may be able to remove the cells causing the damage and repair the area with a tooth-colored filling. If it appears the pulp (the tooth's innermost layer) is involved, we may need to perform a root canal treatment to remove infected tissue and fill the empty space with a special filling. You may also need other procedures to reduce the chances of gum recession around the affected tooth.
Proactive dental care is your best insurance against losing a tooth to root resorption. So keep an eye on your teeth and see your dentist regularly to keep your teeth and gums healthy.
If you would like more information on the signs and treatments for root resorption, please contact us or schedule an appointment for a consultation. You can also learn more about this topic by reading the Dear Doctor magazine article "Root Resorption: An Unusual Phenomenon."
By Warren General Dentistry
June 07, 2016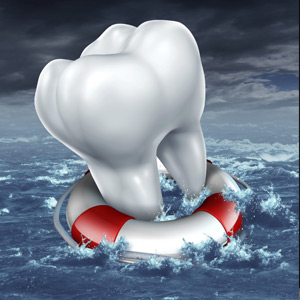 Over a lifetime, teeth can endure temperatures ranging from freezing to near boiling, biting forces of as much as 150 pounds per square inch and a hostile environment teeming with bacteria. Yet they can still remain healthy for decades.
But while they're rugged, they're not indestructible — they can incur serious damage from tooth decay or periodontal (gum) disease, two of the most prevalent oral infections. If that happens, you could be faced with the choice of removing the tooth or trying to save it.
Because today's restorations like dental implants are quite durable and amazingly life-like, it might seem the decision is a no-brainer — just rid your mouth of the troubled tooth and replace it. But from a long-term health perspective, it's usually better for your gums, other teeth and mouth structures to try to save it.
How we do that depends on the disease and degree of damage. Tooth decay, for example, starts when high levels of acid soften the minerals in the outer enamel. This creates a hole, or cavity, that we typically treat first by filling with metal amalgam or, increasingly, composite resins color-matched to the tooth.
If decay has invaded the pulp (the innermost layer of the tooth), you'll need a root canal treatment. This procedure removes infected material from the pulp and replaces the empty chamber and the root canals with a special filling to guard against another infection. We then cap the tooth with a life-like crown for added protection.
Gum disease, on the other hand, is caused by dental plaque (a thin film of bacteria and food particles on tooth surfaces), and requires a different approach. Here, the strategy is to remove all of the plaque and calculus (hardened plaque deposits) we can find with special hand instruments or ultrasonic equipment, and often over several sessions. If the infection extends deeper or has created deep pockets of disease between the teeth and gums, surgery or more advanced techniques may be necessary.
Though effective, some of these treatments can be costly and time-consuming; the tooth itself may be beyond repair. Your best move is to first undergo a complete dental examination. From there, we can give you your best options for dealing with a problem tooth.
If you would like more information on the best treatment approach for your teeth, please contact us or schedule an appointment for a consultation. You can also learn more about this topic by reading the Dear Doctor magazine article "Save a Tooth or Get an Implant?"