Posts for: September, 2019
By Warren General Dentistry
September 11, 2019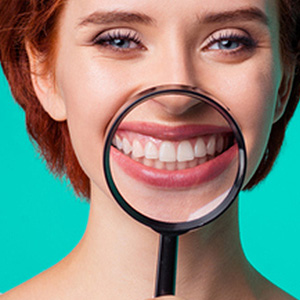 While teeth often seem to be the main focus of dental care, there's another part of your mouth that deserves almost as much attention—your gums. Neglect them and you could eventually lose one of those teeth! In recognition of September as National Gum Care Month, we're doing a little well-deserved bragging about your gums, and why they're worth a little extra TLC.
Here are four reasons why gums are essential to dental health:
They secure your teeth. Your teeth are held in place by strong collagen fibers called the periodontal ligament. Lying between the teeth and bone, this ligament attaches to both through tiny fibers. Not only does this mechanism anchor the teeth in place, it also allows incremental tooth movement when necessary. Preventing gum disease helps guarantee this ligament stays healthy and attached to the teeth.
They protect your teeth. A tooth's visible crown is protected from disease and other hazards by an outer layer of ultra-strong enamel. But the root, the part you don't see, is mainly protected by gum tissues covering it. But if the gums begin to shrink back (recede), most often because of gum disease, parts of the root are then exposed to bacteria and other harmful threats. Teeth protected by healthy gums are less susceptible to these dangers.
They're linked to your overall health. The chronic inflammation that accompanies gum disease can weaken and damage gum attachment to the teeth. But now there's research evidence that gum inflammation could also worsen other conditions like diabetes, cardiovascular disease or arthritis. Reducing gum inflammation through treatment could also make it easier to manage these other inflammatory conditions.
They're part of a winning smile. If your gums are inflamed, abscessed or recessing your smile will suffer, regardless of how great your teeth look. Treating gum disease by removing the dental plaque and tartar fueling the infection not only restores these vital tissues to health, it could also revitalize your smile. Treatment can be a long, intensive process, but it's well worth the outcome for your gums—and your smile.
Brushing and flossing each day and seeing your dentist regularly will help keep your teeth and your gums in tip-top shape. And if you notice swollen, reddened or bleeding gums, see your dentist promptly—if it is gum disease, the sooner you have it treated the less damage it can cause.
If you would like more information about best gum care practices, please contact us or schedule a consultation. To learn more, read the Dear Doctor magazine articles "Gum Recession" and "10 Tips for Daily Oral Care at Home."
By Warren General Dentistry
September 01, 2019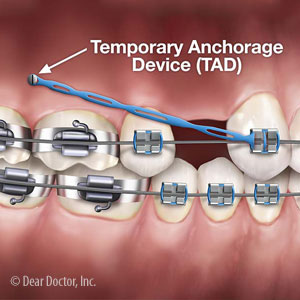 While braces are often the stars for straightening smiles, they're not the only cast members in an orthodontic production. Orthodontists occasionally turn to other appliances if the bite problem is challenging. Whatever the tool, though, they usually have something in common—they use the principle of anchorage.
To understand anchorage, let's first consider the classic kid's game Tug of War. With teams on either end of a rope, the object is to pull the opposing team across the center line before they pull you. To maximize your pulling force, the player at the back of your rope, usually your stoutest member, holds steady or "anchors" the rest of the team.
Like a Tug of War team, braces exert force against the teeth. This stimulates the supporting periodontal ligament to remodel itself and allow the teeth to move. The braces use the teeth they are attached to as anchors, which in a lot of cases are the back teeth. By attaching a thin wire to the brackets or braces on the teeth, the orthodontist includes all the teeth on the arch, from one end to the other. Anchored in place, the wire can maintain a constant pressure against the teeth to move them.
But not all bite situations are this straightforward. Sometimes an orthodontist needs to influence jaw growth in addition to teeth movement. For this purpose, they often use orthodontic headgear, which runs around the back of the head or neck and attaches to orthodontic brackets on the teeth. It still involves an anchor but in this case it's the patient's own skull.
In some situations, an orthodontist may feel he or she needs more anchorage as the teeth alone may not be enough. For this, they might establish a separate or additional anchor point using a temporary anchorage device (TAD). A TAD resembles a tiny screw that's inserted into the jawbone near the tooth intended for movement. The orthodontist can then attach the TAD to braces hardware using some form of elastics. After treatment, they remove the TAD.
These are just a couple examples of specialized tools an orthodontist can use for bite correction. Thanks to them and similar devices, even the most complex bite problem can be overcome to create a healthier and more attractive smile.
If you would like more information on correcting a poor bite, please contact us or schedule an appointment for a consultation. You can also learn more about this topic by reading the Dear Doctor magazine article "Orthodontic Headgear & Other Anchorage Appliances."