Posts for: October, 2017
By Warren General Dentistry
October 25, 2017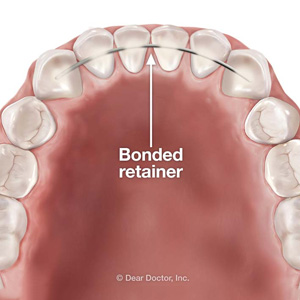 If you're currently undergoing orthodontic treatment, you're no doubt looking forward to the day your braces come off. But that won't end your treatment just yet — you'll need to wear a retainer.
Teeth are held secure in the bone of the jaw by an elastic tissue known as the periodontal ligament. As the braces "pull" the teeth to their new position, the ligament stretches and the bone remodels around the teeth. But the ligament also has a tendency to rebound as the tension eases when the braces are removed. The teeth could then return to their original position, especially during the first few months.
To prevent this patients wear an orthodontic appliance known as a retainer. It maintains some of the tension once supplied by the braces to help keep or "retain" the teeth in their new position. Depending on your age and other factors, you'll have to wear one for at least eighteen months; some patients, especially adults, may have to wear one indefinitely.
You may be familiar with a removable retainer, one you can take in and out of your mouth. But there's another type called a bonded retainer that's fixed to the teeth and can only be removed by a dentist. With this retainer a dentist bonds a thin piece of wire to the back of the teeth where it can't be seen. You can feel it, though, with the tongue: an unusual sensation at first, but one easily grown accustomed to.
Unlike their removable counterparts, bonded retainers aren't noticeable, either to others or the wearer. They're especially appropriate for patients who may not be as diligent in wearing a removable retainer.
It does, though, have some disadvantages. The position of the wire running horizontally across several teeth can make flossing difficult. And as with any retainer, removing it could increase the risk of the teeth moving out of alignment.
There are a number of factors to discuss with your orthodontist about which type of retainer is best for your situation. If you do choose a bonded retainer, be sure you work with the dental hygienist on how best to floss the affected teeth. And if you do have it removed, have a removable retainer prepared so you can preserve that smile you've invested so much into obtaining.
If you would like more information on bonded retainers following braces, please contact us or schedule an appointment for a consultation.
By Warren General Dentistry
October 10, 2017
If you've noticed some of your teeth seem to be "longer" than you remembered, it's not because they've grown. Rather, your gums have shrunk back or receded to expose more of the underlying tooth.
It's not just unattractive — gum recession could lead to severe consequences like bone or tooth loss. But before we begin treatment we need to find out why it happened. Knowing the true cause will help us put together the right treatment plan for your situation.
Here are 4 of the most common causes for gum recession and what we can do about them.
The kind of gum tissues you have. There are two kinds of risk factors: those you can control and those you can't. Because you inherited the trait from your parents, your gum tissue thickness falls into the latter category. Although there are degrees within each, gum tissues are generally classified as either thick or thin. If you have thin tissues, you're more susceptible to gum recession — which means we'll need to be extra vigilant about caring for your gum health.
Tooth position. Normally a tooth erupts during childhood in the center of its bony housing. But it can erupt outside of it, often resulting in little to no gum tissue growth around it. The best solution is to move the tooth to a better position within the bony housing through orthodontics. This in turn could stimulate gum growth.
Over-aggressive brushing. Ironically, gum recession could be the result of brushing, one of the essential hygiene tasks for dental health. Consistently brushing too hard can inflame and tear the tissues to the point they begin to recede. Brushing doesn't require a lot of force to remove plaque: use gentle, circular motions and let the detergents and mild abrasives in your toothpaste do the rest.
Periodontal (gum) disease. This, by far, is the greatest cause for gum recession: an infection caused by built-up bacterial plaque. The weakened tissues begin to detach from the teeth and recede. Gum disease can be treated with aggressive plaque removal and supporting techniques; but it's also highly preventable. Practicing daily brushing and flossing and regularly visiting your dentist for thorough cleanings and checkups are the best practices for keeping your gums as healthy as possible.
If you would like more information on gum recession, please contact us or schedule an appointment for a consultation. You can also learn more about this topic by reading the Dear Doctor magazine article "Gum Recession."